ABOMINALPHA
Edit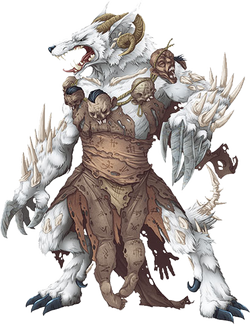 The Wolf-bomination might be terrifying, the Abominalpha is the true leader of the wolf pack!
Target Priority: 3
Actions: 3
Min. Damage to destroy: 3
Experience provided: 5
Special Rule:
Abominalphas are Abominations
Wounds inflicted by Abominations can't be prevented by Armor rolls.
A Damage 3 weapon or Dragon Fire is required to kill an Abomination.
Abominalphas have 3 Actions per Game Turn. This is played in the same way as Zombie Wolfz or Wolfbominations.
As long as the Abominalpha is on the board, all cards that would spawn Runners, spawn Wolfz instead.
Ad blocker interference detected!
Wikia is a free-to-use site that makes money from advertising. We have a modified experience for viewers using ad blockers

Wikia is not accessible if you've made further modifications. Remove the custom ad blocker rule(s) and the page will load as expected.