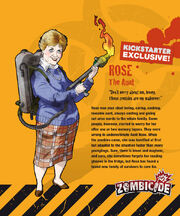 Rose is a Survivor who was available as part of the Season 2 Kickstarter. She became available as the Kickstarter reached its Stretch Goal of $450K.
Official Information
Edit
Rose - The Aunt
"Don't worry about me, honey. These zombies are my makeover."
Rose was your ideal loving, caring, cooking, loveable aunt, always smiling and giving out wise words to the whole family. Some people, however, started to worry for her after one or two memory lapses. They were wrong to underestimate Aunt Rose. When the zombies came, she was horrified at first but adapted to the situation faster than many younglings. Sure, there is blood and mayhem, and sure, she sometimes forgets her reading glasses in the fridge, but Rose has found a brand new family of survivors to care for.
Rose comes with a Zombivor figure as the Kickstarter reached its Stretch Goal of $500K.
Ad blocker interference detected!
Wikia is a free-to-use site that makes money from advertising. We have a modified experience for viewers using ad blockers

Wikia is not accessible if you've made further modifications. Remove the custom ad blocker rule(s) and the page will load as expected.