ZOMBIE BEAR
Edit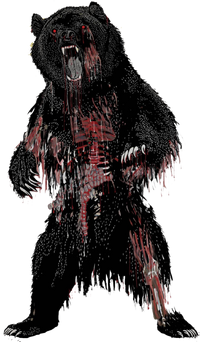 He came back and set the whole place on fire…and released the Zombie Bear !
Target Priority: 7
Actions: 2 (2)
Min. Damage to destroy: 3
Experience provided: 5
Special Rule:
Each Zombie Bear has two seperate Actions per Activation.
Bearz can move up to two zones in one action.
Bearz are immune to Ranged weapon Damage, except for weapons killing everything in their target Zone (such as a Molotov cocktail). Unless otherwise stated, the only way to kill a Zombie Bear is in Melee Combat.
Ad blocker interference detected!
Wikia is a free-to-use site that makes money from advertising. We have a modified experience for viewers using ad blockers

Wikia is not accessible if you've made further modifications. Remove the custom ad blocker rule(s) and the page will load as expected.