ZOMBIE CROW
Edit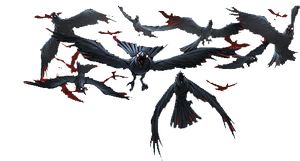 It was inevitable that crows would get infected, scavenging all those zombie bodies. It was also inevitable that it would be very bad news. Crowz may be easy to kill, but these flying vermin can move awfully fast and, worst of all, they can ignore any obstacles, either flying over them or squeezing through broken windows, holes in the roof or gaps on crumbling walls!
Target Priority: 2
Actions: 1
Min. Damage to destroy: 1
Experience provided: 1
Special Rules: 3 zones per move, ignoring all barricades, holes, closed doors, even walls
Ad blocker interference detected!
Wikia is a free-to-use site that makes money from advertising. We have a modified experience for viewers using ad blockers

Wikia is not accessible if you've made further modifications. Remove the custom ad blocker rule(s) and the page will load as expected.